This flyer was distributed to the Senate and media during the week of February 16-20, 1998. The Facts are provided below.
---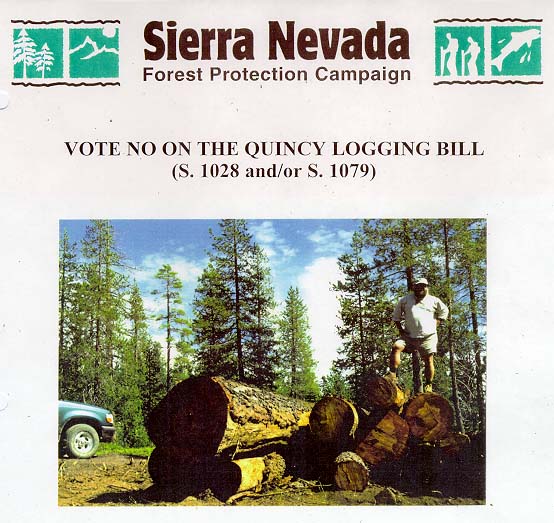 Loopholes Allow Logging of Old Growth
The tree this is clearly larger than 30" in diameter in this Lassen Forest log deck was logged in 1997 as part of a so called "defensible fuel profile zone" project similar to the logging mandated by the Quincy logging bill. When the Forest Service is not logging large, old growth trees in the Sierra Nevada by "mistake" the agency uses numerous other loopholes to justify logging trees larger than 30" in diameter throughout the Sierra Nevada. The 30" size prohibition does not apply to forests east of the Sierra Crest. If a tree is considered liable to die in upcoming years, it may be "salvaged" regardless of size. So called "hazard" tree removal along roads, trails and in campgrounds often target the largest trees, even though there is little proof that an actual hazard to public safety exists.
---
The Facts According to the QLG
This is not a log deck resulting from a QLG DFPZ project. The log deck is associated with the Star and/or Dillon Windthrow Salvage Sales on the Almanor Ranger District of the Lassen National Forest. The area does coincide with a QLG Forest Health Pilot Project Defensible Fuel Profile Zone which only recently sold and has not yet been treated.
The harvest of "hazard" trees is not a loophole, it is a policy. If a tree is likely to die in the next 5-10 years and it is determined to be a public hazard because of its proximity to high use areas, it is removed. There are some members of the Quincy Library Group who would like to see alternatives considered in the treatment of the large "hazard" trees, but it is not a part of their present agreement.
January ,(, /),( 0(:,( AM